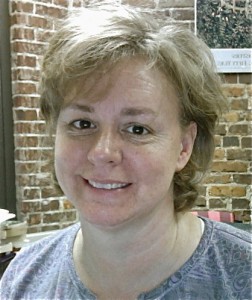 We're so glad you're joining us at Wonders & Marvels.  Could you tell us a little bit about yourself?
I'm a professor of French literature at Vanderbilt University, specializing in the Middle Ages.  I also venture into film studies and 16th century studies, especially if it has some medieval connection.
What made you decide to go into Medieval Studies?  Was there a moment when you just knew that you wanted to study this period?
There was definitely a moment.  I was taking a class with an amazing professor, Stephen Nichols, at the University of Pennsylvania.  He included art and culture in his lectures (something very few other professors did at that time), and I was hooked.  This choice was really confirmed for me as a graduate student when I visited the Bibliothèque Nationale in Paris and got to order manuscript after manuscript from the vaults to look at the text and illuminations.  Back in the day you could actually touch the manuscripts themselves, and it was unbelievable to me that they were so beautiful and so relatively new looking even though they were at least 800 years old.
You're embarking on some really interesting projects in the Digital Humanities.  What types of things are you thinking about right now?
Perhaps since the things that made the Middle Ages come alive for me were so visual and tactile, I am still drawn to that and to making the Middle Ages come alive for my students.  Currently I'm working on a site devoted to pre-modern travel that will allow visitors to really experience what it might have been like to move from place to place circa 1000-1500.  Getting into the Viking longboat, feeling and hearing the seas, experiencing the sagas sung by the campfire at night…
One thing that many people don't know is that you started your academic career as an engineer.  What an interesting shift!
I think I never fully left my scientific roots behind!  Computers have been a passion for me since I got my first IBM jr in college.  No hard drive, just double floppies. It was great.  Thanks to the fact that the only study abroad for engineers that Penn had was in France, I also fell in love with French culture, but I didn't really think of that as a career.  Got my first job as a programmer working by myself in a converted utility closet, and I was out of there in a couple of weeks.  Made the shift to humanities and haven't regretted it.
And the question I love to ask everyone:  Imagine you get to step back in time for a day.  Where would you go?  What would you see?  Who would you meet?
Thank goodness I don't actually have to pick because that would be so hard.  I mean, who wouldn't want to see the dinosaurs?  But high on the list would be the 12th century court of Eleanor of Aquitaine in the hopes of getting a glimpse of Chrétien de Troyes or Marie de France, since we know so little about these writers.  To drink in the medieval court atmosphere at its apogee– that would be amazing!