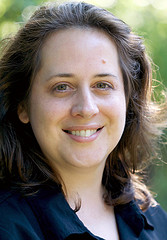 As you may have seen, we're adding some contributors to Wonders & Marvels. We want you to get to know each of them, so we're planning on doing a Q&A (like the one below) with each new contributor. This time around, we're hearing from Beth Dunn.
Q: Could you tell us a little bit about yourself?
A: I'm a writer in both my day job and my night job, which is a pretty nice thing to be able to say. My fulltime job is writer, editor, and community manager for HubSpot, a marketing software company in Cambridge, MA. And when I go home at the end of the day, I open my laptop right back up again and start writing historical romance novels — mostly Regency romances, although I occasionally stray into the Victorian era, too, which was my first love. I was raised on Jane Eyre and Little Women, and all my fantasies when I was younger somehow involved me wearing a hoop skirt. But then I discovered Georgette Heyer, realized what a ridiculous amount of fun the Regency era is to roll around in, and before I knew it, I was writing my own stories and reading them to my friends.
Q: What are some of the greatest pleasures of writing historical romance?
A: The best thing about writing historical fiction is that I get to take people from hundreds of years ago and try to make them real to people today. Not real as in oh yes, I see that this was a thing that occurred, but real as in Oh my God, I feel EXACTLY the same way, that's ME you're talking about. I mean, that's how I reacted to Jane Eyre and Jo March, and so did millions of other girls. I love the idea that I can connect with a reader in that way, if I get it just right. Of course, it's also an unmissable opportunity to finally write down all of the frankly hilarious conversations that are constantly going on inside my head. I used to be afraid of writing dialogue, but then I realized that I just needed to write down what those people in my head were nattering on about. I know that makes me sound kind of  borderline and possibly in need of medical care, but whatever. Call the ambulance: I'm a writer.
Q: And the greatest challenge?
A: Well, my sense of humor can be very modern, kind of all crackly and smart-alecky, which to some ears might sound a little different from what they might expect to get out of a traditional Regency romance. But there's actually a great community of really funny historical romance writers out there now, and it was when I finally read some of their work that I thought oh good, maybe I can do this too. I realized then that I could write in my own voice. And so that's what I do, while maintaining my love and respect for the historical conventions of the time.
Q: Earlier this year, you headed to London with some specific objectives in mind. What did you do?
A: Well, it's funny, my relationship with London. I went there two years ago with my friend Melissa, largely because we wanted to see Toby Stephens, who had just played Rochester in that great 2006 version of Jane Eyre. He was playing the lead in The Real Thing, at The Old Vic. It was magnificent, and we actually got to meet Toby afterwards, and a bunch of other amazing actors who happened to be there that night, too, so we were literally brushing elbows with Rupert Penry-Jones and Hattie Morahan and Blake Ritson and Damian Lewis. For a fan of period drama, which obviously I am, it was all pretty startling. I mean, these actors have played some of the most beloved characters from Regency fiction, and there I was, standing in line with them for the restroom and chatting away.
So this time around, we wanted to try to visit some of our favorite places from these books that we loved. So we took a guided walking tour of Regency London, in and around the gentlemen's clubs and tobacconist shops of St. James's Square; we spent a few nights in Bath and visited the Assembly Rooms and the Royal Crescent; we walked the length of the Serpentine in Hyde Park. And I was working on a book at the time that took place partly in Bath, so I actually walked the streets that my characters were walking, which is always an excellent thing to have done. I'm hoping to go north next year, maybe stagger across the moors of Yorkshire and make a Bronte-themed visit of it.
Q: You and I "met" for the first time when we co-organized the Writers for the Red Cross fundraiser, which raised over $30,000 for the Red Cross in just under a month.  What's your best memory of that crazy month?  How did it change, or reinforce, your thoughts on the writerly community?
A: My best memory of that month was how coolly you carried it all off! It was a massive undertaking that could have very easily spiralled out of control — we had, what, more than 120 authors, agents, and publishers participating, each with their own donations and posts and schedules and fulfillment needs — but you just cranked out spreadsheet after spreadsheet and kept it all running beautifully. The other thing that was amazing about that month was that the terrible tsunamis in Japan took place just as we were getting started, so there was suddenly a real focus for people's involvement and participation. It was wonderful to see how many people wanted to donate — items for auction, services to authors and aspiring writers, and just straight-up cash donations — in the aftermath of all that. The writing and publishing community gets a lot of press these days for being in turmoil, transition, at loggerheads, however you want to put it, but that month showed me that it's an incredibly powerful community of unbelievably generous and helpful individuals. Not that I ever doubted it, but coming into daily contact with tangible evidence of this passion was a terrific experience.
Q: Finally, I have to ask everyone this: You have one day to spend in the past.  Who, what, where, when…and of course, why?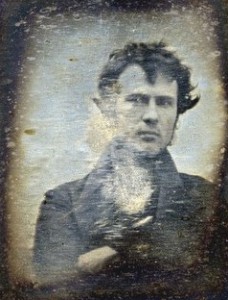 A: I'd go back to Philadelphia, 1839, and find the sidewalk where Robert Cornelius was taking this photograph of himself. It's the first light photograph of an actual human being. Before then, they didn't have the chemical knowledge that would allow them to use a shorter exposure time than, like, an hour. And nobody could sit still for that long, of course. But my man Robert here was a chemist, and he figured it out. I am absolutely in love with this photograph. It's been the wallpaper on my phone for ages now, and I have it saved to my desktop, too. Not only was Robert just sort of casually brilliant in that great way that all the best geeks are, he's also terribly handsome. It's an arresting image, an important piece of photography history, and I'd love to see it happen and meet the man who did it. And then I'd go find Ulysses Grant, my other historical boyfriend, and tell him to lay off the sauce.