By Larrie D. Ferreiro
Over the next decade, Latin American nations will be celebrating their bicentennials, holding ceremonies and festivals to commemorate their independence from the Spanish Crown. From 1809 to 1821, nations from Mexico to Venezuela and from Peru to Chile fought against Spanish forces, one by one throwing off the colonial yoke and declaring themselves sovereign states. Simon Bolivar is well known as one of the most important leaders of this movement, but what is less well known is that Bolivar – as well as many of his predecessors and contemporaries – was inspired to envision Latin America as an independent realm by an 18th-century scientific expedition to measure the earth.
The Geodesic Mission to the Equator (1735-1744) was a joint scientific venture between France and Spain to establish the exact size and shape of the Earth. Such knowledge was needed to control and maintain their global empires, for the nation that could accurately determine the planet's shape could securely navigate its oceans. A team of scientists and naval officers traveled to Quito, where they spent ten grueling years along the Andes Mountains to establish the length of a degree of latitude at the Equator. Although they suffered from cold, disease, attacks by angry mobs and local political struggles, they successfully determined the true measure of the Earth.
However, it was the written accounts they brought back that opened the eyes of Europe to the vast ecological richness of Latin America, and led to the great voyages of Alexandre von Humboldt and Charles Darwin. Moreover, it instilled in the minds of enlightened leaders the concept of Latin America as a unique place, separate from its mother country of Spain and not simply the source of its wealth. When Bolivar and his compatriots sought to overthrow colonial rule, they specifically referred to the Geodesic Mission to the Equator as inspiration for their movement. Indeed, when the new nation of Ecuador was created in 1830, it chose its name – meaning "Equator" – in homage to the great scientific expedition that helped inspire a whole continent to achieve independence.
About the author: Larrie D. Ferreiro is author and editor of award-winning books on the history of engineering, science and technology. He is a frequent contributor to the History Channel, Discovery Channel and the BBC. He lives in Fairfax, VA.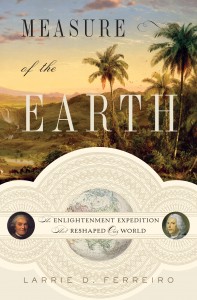 Giveaway is closed.
Would you like an email notification of other drawings? Sign up for our weekly digest in the sidebar.