By Catherine Clinton
Historians have argued long and hard about the causes of the Civil War. The battle over the war's origins began even before Confederate surrender at Appomattox in April 1865, as Americans continue to explore and re-fight this fascinating chapter of our nation's history. A June 2011 poll published in Vanity Fair, conducted 150 years after the firing on Ft. Sumter and President Lincoln's call to arms, indicates that the majority of Americans today believe the origins of the war were rooted in states' rights – white Southerners' belief that their institutions and systems (which included slavery) should brook no interference from the federal government. How and why white Southerners decided to bombard federal forts, raise an army and secede from the Unites States continues a source of fascination, even for those with no sympathy for the Confederate project.
In the 1850s novelist Nathaniel Hawthorne would write to his publisher complaining about the "damned mob of scribbling women" who sold more books than his serious literary fraternity. By the 1860s fiction writers would be overtaken by the drama of men and women, caught up in the rising tide of clashing patriotisms, recording their own experiences, with the nation poised to be rent asunder. Memoirists left descendants poignant descriptions of war's unforgettable images – chronicling hundreds of military encounters – from major battles to minor skirmishes, as the death toll of 700,000 soldiers rose season by season, year by year until war's bloody conclusion. Women on the homefront have provided generations of novelists with fertile ground, from Louisa May Alcott's Little Women to Charles Frazier's Cold Mountain. None has been a more renewable resource than Mary Boykin Chesnut, the wife of a powerful advisor within the Confederate inner circle. An eyewitness to the Richmond palace politics during wartime, a "sechesh" champion challenged by eventual defeat, Chesnut's diary provided an eager audience with food for thought. Her writing illuminates the inner workings of Confederate consciousness, most particularly her whitewashed and self-serving analysis of race relations. From her opening pages witnessing the shelling of Ft. Sumter from the rooftops of Charleston, through battle scars and body counts, to the last, lingering effects of defeat, Mary Chesnut's diary offers readers a ringside seat, re-imagining the fireworks of the American Civil War.
About the author: Catherine Clinton holds a chair in U.S. history at Queen's University Belfast in Northern Ireland. She is the author and editor of over twenty books, most recently Mary Chesnut's Diary, issued as a Penguin Classic in 2011.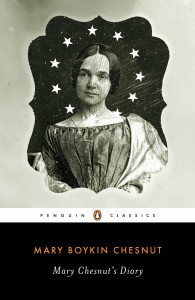 Giveaway is closed.
Would you like an email notification of other drawings? Sign up for our weekly digest in the sidebar –>.