By John J. Miller

In 1905, President Theodore Roosevelt saved football from possible extinction, fighting against a prohibition movement that wanted to ban the sport. The ringleader of the anti-football crusade was Charles Eliot, the longtime president of Harvard, Roosevelt's alma mater.
Eliot worried that certain pastimes were unworthy of gentlemen. If football and baseball were honorable pastimes, then why did they require umpires and referees? "A game that needs to be watched is not fit for genuine sportsmen," he said. A pitcher who threw a curve ball engaged in an act of deception, reasoned Eliot. One time, Eliot suspended a baseball player from Harvard's team due to poor grades. He observed that this was no great loss because baseball was just a game of trickery. When several players and professors challenged Eliot, the college president replied in exasperation: "Why! They boasted of his making a feint to throw a ball in one direction and then throwing it in another!" The idea outraged him.
Football distressed him even more. Eliot believed it was improper for a running back to attack the weakest part of an opposing team's line–he thought the honorable thing required him to attack the strongest. He liked almost nothing about the sport. He thought it caused student athletes to neglect their studies. Even the behavior of spectators appalled him. Before the start of a game against Yale in Cambridge, he heard a group of his students chant, "Three cheers for Harvard and down with Yale!" He regarded this as bad mannered: "Of course it's right to be enthusiastic for your own side, but why sing a song that's rude to our guests?" So he proposed an alternative: "Why wouldn't it be better to sing 'Three cheers for Harvard and one for Yale'?" His suggestion did not catch on.
About the author: John J. Miller is the author of The Big Scrum: How Teddy Roosevelt Saved Football, just published by Harper. His personal website is

HeyMiller.com

.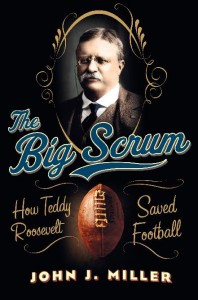 Giveaway is closed.
Would you like an email notification of other drawings? Sign up for our weekly digest in the sidebar –>.