By Brooke L. Blower
Paris certainly was a destination for American lovers in the 1920s – not least for those who wanted to break up. Each year hundreds of "wedlock-worn folks" with the money and inclination set sail for the capital to end their marriages, where divorce laws were more liberal than those of most American states. Never mind that U.S. courts warned that such decrees might not be recognized stateside, that competing statutes meant that a man might be considered divorced in Paris but still married under New York State law, or that, if he subsequently remarried, he might even be regarded as a bigamist in Connecticut. The "mismated" continued their pilgrimages anyway, and the capital's "divorce mill" ran "full tilt." French newspapers did not air society couples' dirty laundry as the tabloids did in Manhattan or Chicago, and the Paris courts offered quick and discreet proceedings, expedited by American lawyer middlemen who made a fine living helping their compatriots "lift the matrimonial shackles."
American magazines made light of this fad for divorce à la française, painting it as a story about modern-day female emancipation, since wives filed the majority of petitions. Paris appeared as a "happy hunting-ground" for soon-to-be-divorcées dreaming of the alimony they'd have to burn. The city's ready pool of gigolos, its celebrated opportunities for retail therapy, promised to take the sting out of a failed love affair.
Yet there was something very sad about couples embarking across the ocean and setting up new residences in the world's most romantic city, a Catholic city, and a city with more than its fair share of war widows and young women who would never have the chance to marry, all to dismantle the life they had built together. Maybe not in the late-night café haze, but in the sharp light of morning – sitting on a park bench, watching the lovers, the families shepherding their small children past – those waiting for their divorces to come through must have felt that sense of loneliness, which often clouds a stay in a foreign place.
About the author: Brooke L. Blower is assistant professor of history at Boston University and the author of Becoming Americans in Paris: Transatlantic Politics and Culture between the World Wars (Oxford, 2011).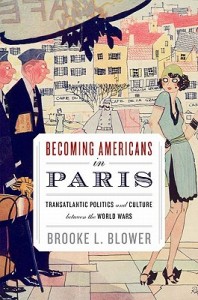 Giveaway is closed.
Would you like an email notification of other drawings? Sign up for our weekly digest in the sidebar –>.