By Suzannah Dunn

Katherine Howard is the wife of Henry V111's about whom we know the least – in all but one respect. We know absurdly little of the girl who was, for a time, Queen of England – but ironically, and sadly for her, we know more of one part of her life than perhaps we could know of our closest friends'.
We don't know what she looked like: there are no authenticated likenesse of her. We don't know when she was born – even approximately – meaning that we don't know her age when she became queen nor at her execution a year and a half later.
What we do know of her, though, is what she got up to in bed with her boyfriend, Francis Dereham, when growing up in the traditional Catholic household of her step-grandmother, the Dowager Duchess of Norfolk. Because that, she confessed to her interrogators with startling candour… although I doubt she had much choice in the matter.
I don't mean that she was physically coerced, but to an uneducated teenage girl, those men – however cautiously they proceeded -must have been gravely intimidating. By sleeping with Dereham, she'd in fact done nothing wrong: what she did before she married was her own business. The big problem was that – incredibly – this behaviour hadn't stopped when she'd become queen. Although she always denied a sexual relationship with Thomas Culpeper, she didn't deny their romance. It was her friends' heartbreakingly credible testimonies, similarly under interrogation, which sealed her fate.
About the author: Suzannah Dunn is the author of ten previous novels, all of which have been critically acclaimed. She has written three historical novels: The Queen of Subtleties, The Sixth Wife and The Queen's Sorrow.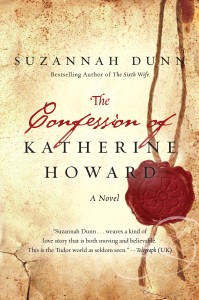 Giveaway is closed.
Would you like an email notification of other drawings? Sign up for our weekly digest in the sidebar –>.