By Jonathan Steinberg
Ernst Schweninger, a handsome young Bavarian doctor, was sentenced in 1879 to four months in prison for 'an atrocious act in a public place' against the widow of his best friend at the grave, to which she was bringing flowers.
In spite of this past Schweninger got to Bismarck and told a colleague how when he cured him "Bismarck was on the verge of physical collapse." He believed that he had already had a stroke and suffered from severe headaches and complete sleeplessness. No treatment had done him any good. He mistrusted all doctors. A relative, [he said] had taken his life because of a similar disorder; 'That will also be my fate,' Bismarck thought. "Tonight, your Highness," said the doctor, "you will sleep." "We shall wait and see," Bismarck replied skeptically.
Schweninger wrapped him in a damp body roll [ Leibwickeln] and gave him some drops of valerian, telling him, however, that it was not a sleeping potion. Then the doctor sat in the easy chair next to his bed and took one of Bismarck's hands in his own, "like a mother with a restless child" until the chancellor fell asleep. When he awakened in the morning, the doctor was still at his side and Bismarck could not believe that it was day and that he had actually slept the entire night. "From that moment, he trusted me." Schweninger saw that ultimately the Iron Chancellor just needed a little tender loving care.
About the author: Jonathan Steinberg is the Walter H. Annenberg Professor of Modern European History at the University of Pennsylvania, and Emeritus Fellow, Trinity Hall, Cambridge. His books include Yesterday's Deterrent: Tirpitz and the Birth of the German Battle Fleet and All or Nothing: The Axis and the Holocaust, 1941 to 1943.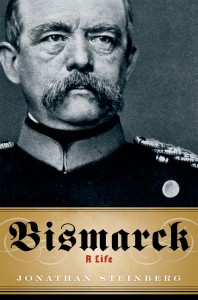 Giveaway is closed.
Would you like an email notification of other drawings? Sign up for our giveaway email list by
clicking here
.