By Randi Barrow
In the former Soviet Union twenty million people were killed during WWII. Hitler's order in dealing with the Russians was, "Scruples of any sort are a crime against the German people." Both the human and animal populations suffered starvation, and death. Is it any wonder the Soviets had such hatred for the invading Germans and all things German? Could a German shepherd expect mercy when it was the favored dog of the Nazis throughout the war, when even Hitler himself had chosen one as a pet? Not likely.
The Russians trained fifty thousand dogs for military service. Some were the "suicide dogs" that blew up German tanks at the price of their own lives. Other dogs sniffed out the wounded and dragged them to safety: some wore medical packs on their backs and helped injured men when no one else could get through. Sled teams pulled large guns into position without a sound. They sniffed out land mines, delivered food and ammunition, and saved thousands of lives.
By the end of the war there were almost no dogs left in the USSR. Imagine a world without pets, guard dogs, herding dogs, hunting dogs. Only the Soviet government had the resources to tackle the problem. It took them seven years to develop a new breed of dog, one fit for working and military purposes, and family use – the Black Russian terrier. Ironically, two of the dog breeds that contributed most to the new Russian dog, were German dogs: the Rottweiler and the giant schnauzer.
About the author: Randi Barrow was an adoption attorney for 20 years before she became a writer. She lives in Los Angeles with her husband musician/composer Arthur Barrow, and their handsome Chihuahua, Manuel.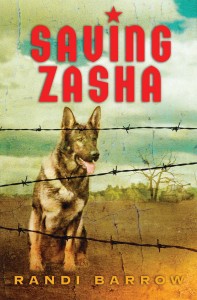 Giveaway is closed.
Would you like an email notification of other drawings? Sign up for our giveaway email list by
clicking here
.