By Karen Harper
The Red Book of Kildare is an actual historical relic used to propel the plot of my novel, The Irish Princess. This rousing story is built around Gera Fitzgerald, "the uncrowned princess of Ireland," who is hellbent on revenge against the Tudors for her family's persecution.
During their 1535 revolt against King Henry VIII, the Fitzgeralds hid the book from their English enemies because it contained maps of their domain, lists of important people, title deeds and their wealth. Also, it was a rental book with the names of Fitzgerald loyalists, another reason the Tudors desperately wanted possession of the book. It disappeared about the time of the English siege of Maynooth Castle, the Fitzgerald stronghold, so, since my heroine escapes that, I have her take the book with her and hide it over the years in England until a Fitzgerald earl returns to Ireland.
The king's forces, of course, would have used the book's information to ruin, both financially and militarily, those loyal to the Irish Fitzgeralds. The book was originally compiled for my heroine's father, the Earl of Kildare, "the uncrowned king of Ireland," by the scholar Philip Flatsbury, circa 1503.
Today The Red Book of Kildare is housed in the British Museum, so the English eventually got their hands on it – but too late for the Tudors. (This book is not to be confused with the legendary lost Book of Kildare from the 1100s in Ireland, which was supposedly dictated by an angel – but that's another story.)
About the author: A New York Times and USA Today bestselling author, Karen Harper is a former college English instructor (The Ohio State University) and high school literature and writing teacher. A lifelong Ohioan, Karen and her husband Don divide their time between the midwest and the southeast, both locations she has used in her books. Karen's books have been published in many foreign languages and she won the Mary Higgins Clark Award for 2005. Karen has given numerous talks to readers and writers across the county.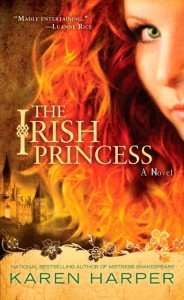 Giveaway is closed.
Would you like an email notification of other drawings? Sign up for our giveaway email list by
clicking here
.