By Sue Macy
In April 2010 I found myself at an auction house that was packed with old bicycles. There were Schwinns from the 1950s and 60s, but they were in the minority, and they were the new kids on the block. More numerous were the really old models, the high-wheelers from the 1880s and the even older velocipedes, built in the 1860s before bicycles had pedals. I watched in awe as collectors and aficionados bid one, two, even three thousand dollars for the chance to take home one of these antique gems.
I was there for the small-ticket items, the photographs, postcards, and pins and medals I needed to supplement the images and ephemera that I already had found for my book, Wheels of Change: How Women Rode the Bicycle to Freedom (With a Few Flat Tires Along the Way). Though I never had bid at an auction before, I quickly caught the competitive spirit and came away with seven prized lots, including a century medal (awarded for riding 100 miles in one outing) and two photographs that made it into the book. I also came away convinced that my book, which focuses on the bicycle craze of the 1880s and 1890s, is particularly relevant today. The ancient bicycles at the auction were the physical manifestation of a time when cycling came to be valued as a healthy, enjoyable, and efficient way to get where you were going. Modern technology has enabled us to produce lighter, faster bikes, but like the models of old, they have the potential to liberate us from the costs, both financial and ecological, of our era's more dominant modes of transportation. While the auction attendees clamored to own a piece of the past, they were also making a statement about the living legacy of one of the most reliable and enduring inventions of the industrial age.
About the author: Sue Macy majored in history at Princeton University and spent 23 years as an editor and editorial director of children's magazines before leaving to write nonfiction books on sports and women's history. She lives in Englewood, New Jersey, just a few hours drive from the site of the

Copake Auction

, described above. This year's bicycle auction is scheduled for April 16.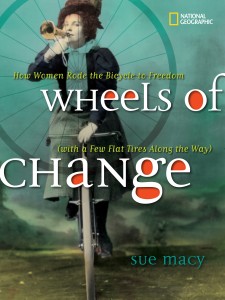 Giveaway is closed.
Would you like an email notification of other drawings? Sign up for our giveaway email list by
clicking here
.
IMAGES ARE FOR YOUR ONE-TIME EXCLUSIVE USE ONLY AS A TIE-IN WITH THE NATIONAL GEOGRAPHIC BOOK "WHEELS OF CHANGE." NO SALES, NO TRANSFERS.
Cover: ©National Geographic
Photo: Collection of the Author