By Ruth Downie

In my days as a council clerk, I soon learned that a few ill-chosen words in a document could unleash a torrent of heated emails. Pity, then, the scribes of town councils in Roman times. They were answerable not only to their employers but also to the god Jupiter and the spirits of living and dead Emperors. According to the laws of the Spanish town of Irni, any scribe who refused to swear to all of the above that he would keep full and accurate records was out of a job.
The constitution that the Emperor Domitian gave to Irni (sadly no British records survive) contains oddly familiar material. There were restrictions on Jobs for the Boys: the list of people to whom a councillor should not offer a public contract included not only his relatives but also his 'scribes and attendants'. There were rules about claiming expenses and accounting for public money, and strict limits on who could use the services of the public slaves.
Evidently Roman electioneers were not above a little sharp practice. Not only was voting carefully scrutinised, but when a shortage of suitable candidates was solved by publicly listing the names of all the eligible men, it was deemed necessary to stipulate that this must be done in such a manner that they can be read properly from ground level.
Less predictable, though, was the election tie-breaker. In the event of two candidates receiving the same number of votes, a married or engaged man took precedence over a bachelor. If that was no help, the issue was decided by counting each man's sons. The more sons, the better – and, in a sad reflection of the times, there was also a system for calculating the worth of boys and girls who had died in childhood. Only after all this was taken into account did they resort to drawing lots.
With their underfloor heating and their dinner-parties, their 'leisure centre' baths and their political wranglings, it's tempting to see the ancient Romans as 'just like us' – until we look more closely.
About the author: Ruth Downie lives in the south of England, a region still shaped by the legacy of the Roman Empire. Her latest book is 'Caveat Emptor', the fourth in her series about a Roman Army doctor (Bloomsbury USA, 2010; to be published by Penguin UK, 2011 as 'Ruso and the River of Darkness').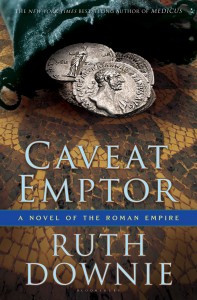 Giveaway is closed.
Would you like an email notification of other drawings? Sign up for our giveaway email list by

clicking here

.