By Priya Parmar

Long before Nell Gwyn was the subject of gossip columns and newspaper articles, she would most likely have been one of the many young London girls who eagerly read up on health and beauty tips, helpful dating hints and celebrity fashion advice. Newspapers, journals, handbooks and medical books did a roaring trade handing out practical prescriptions for freckle cures, virility pills, energy drinks, and suggestions for how to meet and keep the right man. Some of it was scientifically based. One medical journal advised: rubbing ointment made from dried bees on the afflicted area to cure baldness, or for major wounds: dip finger in the blood of the wound and write the victims own name on his chest to ensure a speedy recovery.
Beauty advice was always popular. To target cellulite a woman should heat and mix: goose grease, oil of lily, chicken fat, resin, pine pitch, turpentine and wax and then allow to cool before applying the smelly stuff to the problem area. To find the perfect decorative patch for the shape of your face one had to be sure to choose a suitably proportioned image. Lady Barbara Castlemaine wore a blue, cut out, patch of a coach and four riding across her cheek; one had to have the right shaped face to carry that off. A lean and muscular body for a woman was considered unfortunate and if a woman was afflicted with such a figure, she was advised to rest and eat as much as possible to achieve a fuller and more desirable shape.
The Ladies Dictionary is specific on the subject of dating: "Is it proper for a woman to yield at the first address, though to a man she loves?" Absolutely not. He will like you better if you hold out. Should a woman wear make up? Never, as it will "destroy the reputation" of the wearer. It would also most likely destroy the face as cosmetics were often lead based.
Superstition was also a subject. You do not want to encounter a shaggy dog, a rough footed hen or a black cat early in the morning as it is a sign of death. A hare crossing your path in the high way is ill luck but if your left cheek burns, someone, somewhere is saying something nice about you. If you dream of eggs or fire it is bad luck but if you dream of the devil, it is good luck. If your right palm itches, you will shortly be receiving money but if you give knives to your sweetheart, it will sever the love between you…
About the author: Priya Parmar, a former dramaturg and freelance editor, holds degrees in English Literature and theatre. She attended Mount Holyoke College, Oxford University, and is currently a doctoral candidate at the University of Edinburgh. She divides her time between Hawaii and London. Visit her online at

PriyaParmar.com

.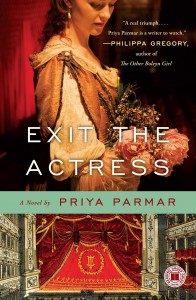 Giveaway is closed.
Would you like an email notification of other drawings? Sign up for our giveaway email list by

clicking here

.