By Nancy Marie Brown

Sylvester II, pope from 999 to 1003, was a wizard. He had sold his soul to the devil.
So, at any rate, said the official Lives of the Popes written in the late 1200s by Martin the Pole, a Dominican friar, and referenced for hundreds of years.
Friar Martin wasn't making this up. He had good sources.
Pope Sylvester was "the best necromancer in France, whom the demons of the air readily obeyed in all that he required of them by day and night," wrote Michael the Scot earlier that century.
In the 1120s, William of Malmesbury claimed Pope Sylvester spent his time in Rome practicing "the black arts." He owned a "forbidden" book stolen from a Saracen philosopher. After "close inspection of the heavenly bodies," he made himself a talking statue that would answer any yes-or-no question.
Then in 1602, the papal librarian Cardinal Baronius came across a collection of Pope Sylvester's letters and concluded he "was nothing but a learned man who was ahead of his time. Those who want to efface his name from the catalogue of popes are ignorant fools."
What did the cardinal read in those letters? About Pope Sylvester II's abacus, or counting board.
Pope Sylvester II was the first Christian known to teach math using the nine Arabic numerals and zero, as a 10th-century manuscript found in 2001 reveals. His abacus introduced the place-value system of arithmetic and mimics the algorithms we use today for adding, subtracting, multiplying, and dividing. It has been called the first counting device in Europe to function digitally – even the first computer. In a chronology of computer history, Gerbert's abacus is one of only four innovations mentioned between 3000 B.C. and the invention of the slide rule in 1622.
Pope Sylvester II wasn't a wizard. He was a geek.
About the author: Nancy Marie Brown writes about science, history, and sagas. She is the author, most recently, of THE ABACUS AND THE CROSS: The Story of the Pope Who Brought the Light of Science to the Dark Ages (Basic Books; December 2010). Her previous books include The Far Traveler: Voyages of a Viking Woman and Mendel in the Kitchen: A Scientist Looks at Genetically Modified Food, which was named one of the Best Sci-Tech Books for General Readers for 2004 by Library Journal. She lives in East Burke, Vermont.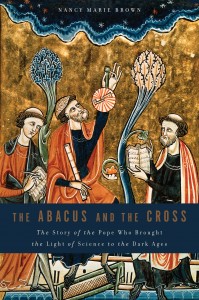 Giveaway is closed.
Would you like an email notification of other drawings? Sign up for our giveaway email list by

clicking here

.