By Joseph Wallace (Guest Contributor)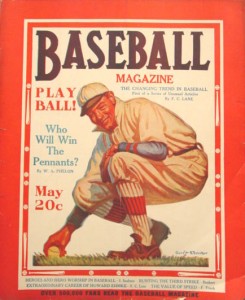 How fast does a baseball travel after being thrown by a major-league pitcher? A remarkable article in the December, 1912, issue of Baseball Magazine showed that the first accurate measurements were made decades before the invention of the modern-day radar gun.
Titled "One Hundred and Twenty-two Feet a Second!", the piece sought to measure the speed of the pitches thrown by future Hall of Famer Walter Johnson, widely considered the hardest thrower of his era. To do so, the magazine's editors turned to unlikely source: the Remington Arms Company in Bridgeport, Connecticut.
Remington had recently designed an elegant electrical apparatus to measure the speed of the bullets fired from their rifles. Baseball Magazine realized that the same device could measure hurled baseballs just as well.
In the experiment, Johnson was enlisted to throw a baseball through a delicate wire mesh suspended in a wooden frame. After brushing through the mesh, the ball would strike a sturdy steel plate bolted to the wall beyond.
Attached to both the wires and the steel plate was the apparatus, which measured the two impacts and the time elapsed between them. Knowing the distance between the mesh and plate allowed the editors to determine the speed of Johnson's throw.
Walter Johnson's fastest measured traveled 122 feet per second – or, as we measure pitches today, 83 miles per hour. As the awestruck editors hastened to point out, this was far faster than the speedy Twentieth Century Limited railroad train traveling at a mile a minute…and fully half the speed of one of Remington's deadly bullets.
Important addendum: As baseball fans know, most pitchers today can throw a baseball more than 90 miles per hour. The reason Johnson's pitches were so much slower? It took him many tries before he finally guided the ball through the small mesh framework, by which time he was far more concerned with accuracy than speed!
This speed machine – and the Baseball Magazine article – play important roles in Diamond Ruby. During the section of the novel when Ruby is working on Coney Island (in a sideshow challenging men to "outthrow the girl pitcher"), it is Remington's electrical apparatus that allows pitching speeds to be compared….and the real-life article that tells Ruby and her girls that such a device exists.
Jos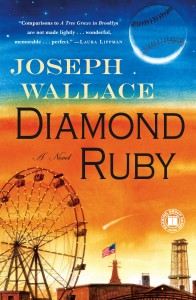 eph Wallace has been a writer of popular history for more than twenty years, covering subjects ranging from science and natural history (A Gathering of Wonders: Behind the Scenes at the American Museum of Natural History) to baseball (The Autobiography of Baseball). His first novel, Diamond Ruby, set in New York City during the Roaring Twenties and inspired by a photograph he found at the Baseball Hall of Fame Library, was published in May by Touchstone. He is currently at work on a sequel.