By Barnet Schecter

One of the great shaping forces in the life of young George Washington was a five-million-acre tract of land (roughly the size of Massachusetts) owned by Thomas, Lord Fairfax through inheritance of a grant from the king of England. The Northern Neck Proprietary, as it was called, took up most of northern Virginia, where Washington was born and raised. From Chesapeake Bay to the east, the property consisted of the neck of land between the Potomac and Rappahannock Rivers, and extended westward all the way to the source of the Potomac in the Allegheny Mountains. From there, the property was bounded by a straight line extending to the head of the Rappahannock, and enclosed to the south by the Rapidan River. The Proprietary would prove to be a source of opportunity, an obstacle, and a spur to the abundant ambition of the teenage Washington.
In 1743, when Washington was eleven, his father died, and his half brother Lawrence took him under his wing. Lawrence had married into the Fairfax family and George would soon enjoy their patronage, learning the profession of surveying on an expedition to the western reaches of the Northern Neck when he was sixteen and receiving an appointment as a county surveyor a year later. However, like many young Virginians who aspired to join the ranks of the colony's landed gentry, Washington quickly realized that Lord Fairfax's monopoly on land east of the Alleghenies meant he would have to seek his fortune beyond them, in the Ohio country.
The early military exploits that established his fame took place on that western frontier, where Colonel Washington was always on the lookout, not only for the enemy but for the choicest pieces of land. The acquisition of land in the West – and the quest to connect that land to the eastern seaboard by improving navigation on the Potomac and turning the river into a major commercial artery – would engage a great deal of Washington's energy for the rest of his life. Ultimately, Washington's investment in the West helped him evolve from a mere speculator to a visionary statesman, who saw the United States as "a rising empire in the New World," and sought to overcome the geographical divisions that threatened the new nation.
About the author: Barnet Schecter is the author of three books: George Washington's America: A Biography Through His Maps; The Devil's Own Work: The Civil War Draft Riots and the Fight to Reconstruct America; and The Battle for New York: The City at the Heart of the American Revolution. In addition to lecturing and leading tours and military staff rides, he has appeared in a variety of television documentaries.
You can learn more about his books and join his email list at: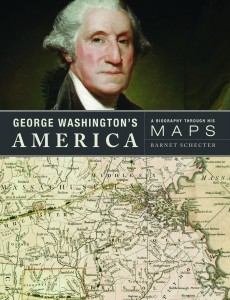 Giveaway is closed.
Would you like an email notification of other drawings? Sign up for our giveaway email list by

clicking here

.