By Dominic Tierney
Sitting on the steps of the Lincoln Memorial in Washington, D.C., and looking toward the Capitol, we can see America's vision of how war is meant to be.
Behind us is a marble Abraham Lincoln, enthroned in his temple. Straight ahead lie the Reflecting Pool and the World War II Memorial. The shimmering water bridges America's two "good wars": the first to save the Union and free the slaves from 1861 to 1865, and the second to defeat fascism from 1941 to 1945.
This is what war ought to look like: decisive victory, regime change, and the transformation of the world – a magnificent crusade.
But if we broaden the view from the Lincoln Memorial, our peripheral vision reveals a less comfortable military narrative. Hidden away behind trees on the right-hand side is a memorial to the 1950-1953 Korean War. A group of nineteen men, cast in stainless steel, slog their way uphill, sorrowful and exhausted. This was no splendid crusade, but a bleak stalemate.
Meanwhile, concealed under trees to the left is a sunken black wall, testifying to America's tragedy in Vietnam from 1965 to 1973. This is what war ought not to look like. The United States spent years engaged in a futile nation-building effort in South Vietnam, trying to stabilize a weak government while battling a shadowy insurgency. With each step forward, Washington seemed to get further bogged down in the quagmire.
Here, on the Mall, lies nothing less than the secret of the American way of war: our love of smiting tyrants, and our dislike of fighting insurgents or nation-building. This vision of war as a glorious crusade or a grim quagmire has defined our national experience of conflict for two centuries.
About the author: Dominic Tierney is Assistant Professor of Political Science at Swarthmore College. His latest book is How We Fight: Crusades, Quagmires, and the American Way of War. More information is available at

www.facebook.com/howwefight

.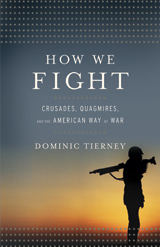 Giveaway is closed.
Would you like an email notification of other drawings? Sign up for our giveaway email list by

clicking here

.