By Annelise Freisenbruch
The Italian island of Ventotene (from the Italian 'vento', meaning 'wind') is well-named. Every day I was there in June of this year was certainly a bad hair day. But there are ample rewards, if one can endure the bumpy, hour-long sea-crossing by hydrofoil. Honey-coloured villas and welcoming cafes where one can sip a glass of wine and enjoy the view of the harbour – it is the perfect place for someone looking for something a little out of the way. But the island's remoteness once served another use. Under the Roman empire, Ventotene – or at it was known then, Pandateria – was a place of exile, a maritime oubliette for imperial Roman women who proved an embarrassment to the regime. It is these women, among others, who are the subject of my new book, Caesars' Wives: Sex, Power and Politics in the Roman Empire.
One disgraced resident of Pandateria was Agrippina, the infamous mother of the even more infamous emperor Nero. Agrippina briefly lived on Pandateria in the early 40sBC when her brother Caligula accused her of plotting against him. Another was Claudia Octavia, Nero's wife, who was imprisoned and executed here after being framed by her husband on a charge of adultery. But Pandateria's best-known detainee was Julia, daughter of Rome's first emperor Augustus, who was accused of drunken behaviour and having sex in the Roman forum, thus undermining her father's attempts to present himself as a moral crusader and a champion of family values. Then, as now, a politician's family members were as much liabilities as assets.
About the author: Annelise Freisenbruch is the author of Caesars' Wives: Sex, Power and Politics in the Roman Empire (Free Press), and has a PhD in Classics from Cambridge University. She lives in the United Kingdom, and teaches Latin to middle-school children.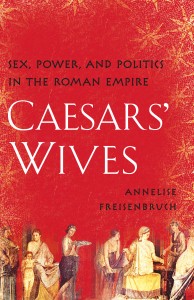 Giveaway is closed.
Would you like an email notification of other drawings? Sign up for our giveaway email list by clicking here.