By Melissa Jones
I have always been wary of grand claims that history is written by men and unjustly neglects women; but when I read "Henry James Two Women and his Art", a biography by Lyndall Gordon, I felt just that. While I knew that James' young cousin Minny is regarded his Muse – I saw her simply as an image – a source of inspiration; that she died at twenty-four was little more than a remote fact, her actual character vague.
But when I read her letters – those that survive and were not destroyed by James – I was filled with the excitement one feels when discovering not only an original mind, but a unique personality. Her voice is so modern, so bursting with life, her observations so acute and often funny – that she seemed more powerful than the sacrificial characters (Isabel Archer, Milly Teale) she inspired. She had a unique, deeply moving, aspiration towards freedom: 'We must be true to ourselves, mustn't we, though all the rest of humanity be of a contrary opinion…I believe it more than ever, every day I live.' I took this openly expressed passionate longing as the basis for my heroine and her story.
In his books – with a writer's coolness and sense of power – James converts Minny's orphaned poverty into riches, her struggles end in physical or spiritual death. But what if – Minny had lived, what if she had found something of what she aspired to in the Europe she longed to see but never found?
About the author: Melissa Jones was born in London. She is the daughter of the Jamaican screenwriter Evan Jones and the sister of novelist Sadie Jones. She lives in Essex with her husband and two children. This is her third novel, and first work of historical women's fiction.
Image Credit: By permission of the Houghton Library, Harvard University: pf MS Am 1094.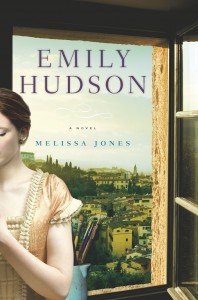 Giveaway is closed.
Would you like an email notification of other drawings? Sign up for our giveaway email list by

clicking here

.