By E. Stanly Godbold, Jr.
1. Ted Sorensen was Carter's first choice to be Director of the CIA, but he could not get him confirmed by the Senate.
2. Carter rebuilt the US military during his last year in office, creating the modern technological machine that successive presidents have used in their wars.
3. Rosalynn Carter became Co-Chair with her husband of the Carter Center in Atlanta , which functions like a private United Nations, and Chair of the Rosalynn Carter Institute for Caregiving in Americus after she left the White House.
4. Rosalynn Carter was the only wife of a President who attended Anwar Sadat's funeral.
5. Rosalynn Carter attended five of the President's 32 Cabinet meetings and served as his ambassador to several Latin American nation.
Image: Rosalynn Carter, First Lady of Georgia, and unidentified gardener, working in flower beds at the mansion, 1971. Courtesy of Georgia Archives, RG 1-16-116, Box 15.
About the author: E. Stanly Godbold, Jr. is Professor Emeritus of History at Mississippi State University. He served as off-camera consultant and on-camera commentator for the American Experience documentary on the life of Jimmy Carter (2002). He lives in Oktibbeha County, Mississippi.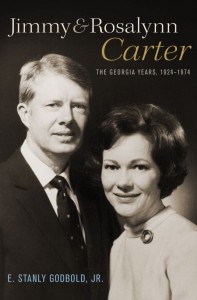 Giveaway is closed.
Would you like an email notification of other drawings? Sign up for our giveaway email list by

clicking here

.