By Susan Fletcher
For over three centuries, up to the early 1700s, there were witch-hunts in Britain. Only in researching Corrag did I truly learn of the immense cruelty with which women – mostly elderly, out-spoken, intelligent or gifted – were treated. From pricking with pins to find 'the witch's mark', to torture, to execution by fire, water or the noose, the suffering was unimaginable. Furthermore, accusations of witchcraft were often based on the smallest coincidence, even a lie. Few were safe; suspicion was rife.
One of the areas of the British Isles which saw the least 'witch-fever' was the Scottish Highlands. Perhaps due to its geography, or the Highlanders reliance on traditional medicines and the ones who practiced it, the north-west of Scotland could have been a haven for the wise woman, and her kind. Coupled with the fact that, politically, these parts harboured Jacobites – supporters of the exiled King

James, plotters against his usurper, William – I became intrigued with the atmosphere and power that the Highlands must have had at that time. It is easy to romanticise Highland life, especially Jacobitism, but in reality, clan life was impoverished, bloody and hard. That the Highlanders, despite this, could bring such trouble to the Williamite government made the area, for me, all the more fascinating; that they would have tolerated, even revered, the women who were hunted elsewhere increased my wish to learn more.
For me, too, this time in history has an added poignancy: by the mid-1800s, Highland life was virtually destroyed. The Highland Clearances saw the clan system broken down, the Highlanders themselves evicted from their land. Those Jacobite days feel, to me, like the last strong, Highland heartbeat, before their cause, hopes and way of life were lost for good.
About the author: Susan Fletcher is the author of Eve Green, which won the Whitbread Award for First Novel, and Oystercatchers. She lives in the United Kingdom.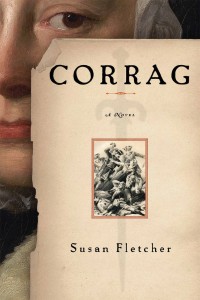 Giveaway is closed.
Would you like an email notification of other drawings? Sign up for our giveaway email list by
clicking here
.