By Arnie Bernstein
On May 18, 1927 a madman forever changed a small Michigan town. That day, in horrific conflagration of dynamite and blood, Andrew Kehoe set off a cache of explosives concealed in the basement of the local school, killing 38 children and six adults. In an instant, what was to have been a happy last day of school before summer vacation turned into a whirlwind of epic horror. Among the dead was Kehoe, who literally blew himself to bits by setting off a concealed dynamite charge in his car. The next day, on Kehoe's farm, the remains of his wife was found tied to a hand cart, her skull crushed. At the edge of the farm was a sign reading: Criminals Are Made, Not Born.
When I first stumbled on the Bath story, my reaction was "Wow! What a book this will make!" I had dreams of "my book," retelling a terrific murder tale à la Capote's In Cold Blood.
And then I went to Bath.
It changed me. The people of this beautiful place have lived in the shadow of incomprehensible horror for more than eight decades. Their quiet courage made my ambitions of a "great book" a trivial conceit at best. Instead, I realized, that something beyond my understanding brought me to Bath to chronicle a people and place. To paraphrase Lincoln, the brave men, women and, above all, the innocent children and adults who died that day, consecrated the story far above my poor power to add or detract.
In Bath, the face of humanity, profound and deeply moving, taught me much.
About the author: Arnie Bernstein is the author of Bath Massacre: America's First School Bombing, which was named as 2010 Michigan Notable Book. He lives in Chicago, where he teaches college composition and is working on a new book.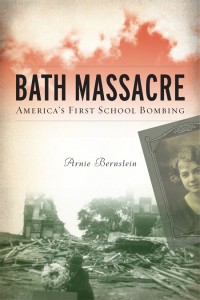 Giveaway is closed.
Would you like an email notification of other drawings? Sign up for our giveaway email list by

clicking here

.
Image courtesy of Bath School Museum.