By Daphne Kalotay
Researching the Bolshoi Ballet, I was surprised to learn that its Academy has its origins in the Moscow Orphanage.
Catherine the Great founded the orphanage in 1763. Profoundly interested in the arts, she also established the Directorate of Imperial Theatres, which oversaw all official artistic productions. This was an era when "French style" dance had become a favorite entertainment of the privileged classes; Russian nobles often employed serf ballerinas to perform for guests. In other words, ballet was an artistic amusement provided by those serving the aristocracy.
When it was decided the orphanage should include ballet lessons, Catherine hired Filippo Beccari, who had danced as a member of the St. Petersburg Court Theatre. Beccari was soon given a more specific commission: to prepare his students not merely with ballet training but as professional dancers. The story frequently told says that Beccari was so certain he could make dancers of his charges within three years, he agreed to forgo a salary and be paid according to his success rate: for each soloist he produced, he would receive the princely sum of 250 rubles; for each corps de ballet dancer, 150 rubles. Sure enough, at their debut in 1776, over a third of the students – all of whom were either orphans or serf entertainers – went on to become soloists in Moscow or St. Petersburg companies. The remaining 38 became corps de ballet members.
It moves me to know that these dancers came from unprivileged circumstances, that many had never known their parents. In the opening chapter of my novel

Russian Winter

, the protagonist and her best friend audition for the Bolshoi School on the morning that the friend – although she doesn't yet realize it – has just lost her parents. Though on the page I never mention the ballet school's roots as an orphanage, the truth was there in the back of my mind, informing that scene.
About the author: Daphne Kalotay is the author of the novel Russian Winter. She lives in the Boston area.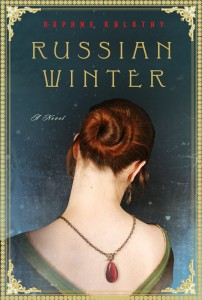 Giveaway is closed.
Would you like an email notification of other drawings? Sign up for our giveaway email list by

clicking here

.