By Joseph Skibell
Years ago, I attended a play about Stephen F. Foster. According to this play, Foster didn't actually compose all those songs — "Camptown Races," "Oh, Susanna!" "Beautiful Dreamer" – rather he purchased them from a slave who died penniless and unknown.
Songs bought for a song, as it were.
I asked the playwright if this were true, and he said, "I don't believe there's any evidence of that, no. I used Foster because he's well-known. Still, white culture has been stealing from black culture since the beginning of the American experience, true?"
Perhaps, but it hardly seemed fair to poor Stephen Foster.
Remembering Foster, I tried to be scrupulous in the depictions of the historical figures – Freud, Dr. Zamenhof, the Piasecnza Rebbe – who, in my novel, A Curable Romantic, rub shoulders with characters who are wholly fictitious.
Accuracy, as an ethical yardstick, is easy to apply to simple facts – Foster did

not

buy his melodies from an unknown slave – but it's harder to measure the subjective states novelists traffic in. To write about anyone is to offend against his or her subjective notions of self, and it's trickier with one's villains: in my case, Wilhelm Fleiss, Freud's friend, who, by operating on her nose to cure her neurosis, butchered Emma Eckstein; and Louis de Beaufront and Louis Couturat who, in hoping to reform Esperanto, destroyed it altogether.
Despite the harm these men caused, each woke up in the morning, I'm certain, believing in the unimpeachable morality of his intentions.
Whose vision is the least distorted then – the subject's or the portraitist's?
A novelist's commission is to tell an entertaining story. If historical truth must be jettisoned towards that end, only a bad novelist would choose to be a good historian.
Still, in a spirit of historical accuracy, allow me to confess that Boleslas Gajewski, an advocate for Solresol, an artificial language invented by Jean-Francois Sudre, did not commit the murder I depict him committing on pp. 492-493 of my novel.
Neither, as far as I know, did he write the songs of Stephen Foster.
Joseph Skibell is the author of three novels, A Blessing on the Moon

,

The English Disease, and A Curable Romantic. He received the Richard and Hinda Rosenthal Foundation Award from the American Academy of Arts and Letters and a National Endowment for the Arts Fellowship. His work includes stories, plays, essays and a libretto for an opera based on

A Blessing on the Moon

. He teaches at Emory University and is the director of the Richard Ellmann Lectures in Modern Literature.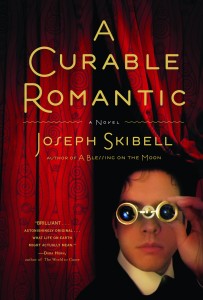 Readers, what do you think?  Does historical fiction have to be historically accurate?  We have a feeling there's going to be a good discussion here…
Giveaway is closed.