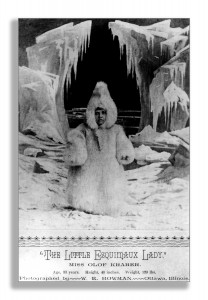 By Inga Dóra Björnsdóttir
Olof Sölvadóttir, who became famous in the United States as Olof the Eskimo Lady, was born in the northern part of Iceland as an achondroplastic dwarf in 1858.
She came from a large and poor farming family.
Olof´s mother died when she was 11 years old and as her father, a drunk and a womanizer, was unable to take care his children, so Olof and her siblings were sent to foster care at a different farm where the worked as farmhands for a living.
A New Life in New Iceland
In 1876 her father, with his new wife, decided to reunite his family and join the group of about 15,000 Icelanders who emigrated to America from 1874-1900 to escape the economic and social hardship in Iceland and start a new life in the promised land.
Olof was very happy about the move, but became a laughingstock among her fellow countrymen on the ship over to America, when she, the dwarf, told them that she was going to become both rich and famous in America.  But as fate had it, she was right! None of her fellow passangers became as successful as she did.
Her family settled in New Iceland, a pioneer community in Manitoba, Canada, where they lived for two years enduring great hardship. From there they moved to Winnipeg, where Olof earned a living as a maid, spending her days, as she later described it, washing dishes standing up on a chair. But not for very long. When an American circus visited Winnipeg the following summer she quickly got herself hired for the sideshow and left Canada and her family behind never to return.
During the winter, when the circus was not operative, Olof earned her living as a servant in a hotel in Duluth, Minnesota. When people saw her and heard her foreign accent they asked her where she was from. When she said "Iceland" they immediately responded by stating that they had never seen a Eskimo before.
On the Lecture Circuit

At first Olof was very offended, she was a proud descendent of Vikings, and not a barbaric Eskimo. But when a pastor of a church in town asked her one day to come and give a lecture about her native home, Greenland, and offered her five dollars pay, it was too hard to resist.
Olof, who was quickwitted and highly intelligent, spun a very dramatic, colorful and, at times, grotesque tale about the life and customs of Eskimos in Greenland. She turned out to be a great storyteller and an actress, and her lecture became a huge success.
Soon thereafter she left the circus and earned her living traveling around giving  lectures to packed churches and city halls about her incredible life in Greenland. The tales were outlandish—Eskimo babies were born white, she said, but never bathed throughout their lives; young Eskimo men had to sneak their future wives out of her home or be killed by their parents; and so on. Yet no one ever questioned her stories.
A 19th-Century Bestseller

In 1887, a man name Albert S. Post heard Olof's lecture and was so deeply impressed that he decided to publish it in a book: Olof Krarer. The Esquimaux Lady. A Story of Her Native Home.
The book became very popular and a major educational source for Eskimo culture, used in both primary schools and universities alike in North America. Olof´s career soared, and she gave about 2,500 lectures about Eskimos and her native land on the lyceum curcuit and at universities around the United States.
There was a reason for the American public's interest in Olof´s story.  Robert E. Peary, who was two years older than Olof, was at the time determined to be the first man on earth to reach the North Pole and he was going to do so through Greenland.
The American public at the time was as interested in the  race for the North Pole as it later became in the race for the Moon, and was thrilled to hear a first hand account from a genuine Eskimo supposedly the only real Eskimo living in the United States.
They flocked to her lectures and never doubted the truthfulness of her tales, and Olof was never exposed as a hoax all her life. She lived to the ripe old age of 76 and lies buried as Olof Krarer in the Oakridge Cementary in Hillside, a suburb south of Chicago.
Image: Olof in Eskimo garb, courtesy of publisher and Dartmouth College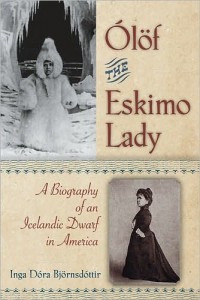 Giveaway is closed.