Eglise Saint-Jean de Malte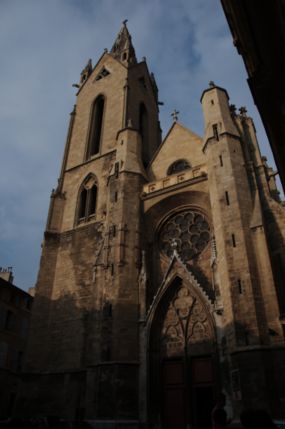 While Wonders & Marvels hums along as usual (with the help of my amazing editorial team), I'm actually spending the summer in France. Yes, France. To be more precise, the South of France. Aix-en-Provence. Yes, it's a rough life.
I'm here teaching at my university's study abroad program. We've had a program in Aix for almost 50 years. One of the greatest perks for faculty is that we get to teach in rotation here.
Several years ago, my family and I spent a full year in Aix. So being here is like coming home. In fact, just yesterday, we had our neighbors—whom we've known for years–over for an American breakfast. You can imagine how fun it is to serve grits and bacon here!
Aside from the grits, I can't begin to tell you how delicious it is to be here. First, of course, because of all of the delicacies to be found. Fresh fruit and vegetable markets dot the city each day. Olives, tapenade [an olive spread], fresh goat cheese, and wine—de préférence, rosé, are a staple for our evening aperitif.
It's delicious to me for an even more important reason, however. As a professor, I am nearly giddy with the opportunities my students and I get to share together. I'm teaching a course called "Textes et Contextes," which covers history, art, and literature from the Middle Ages to the Eighteenth Century.
Last week, I talked to the students about medieval architecture—and particularly the shift from Roman to Gothic styles in church construction. A student had a question about a specific type of arch. I pulled up some Google images to give her a better idea. Then it occurred to me…duh, we were literally RIGHT NEXT DOOR to a 13th century church: Saint Jean de Malte.
We were out of the classroom before you could say "au revoir." A minute later, we were standing right in front of the arch that was giving us problems.
Cathédrale Saint-Sauveur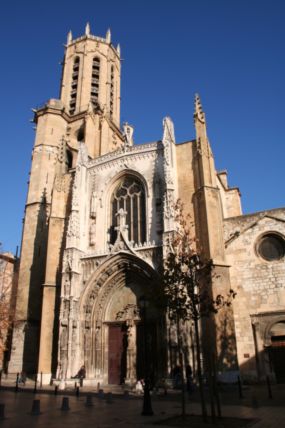 For their final course projects, my students are working on an "essai photographique." The Cathédrale Saint-Sauveur in Aix may not be as beautiful to look at as Notre Dame in Paris…but it has structures from every period—from a fascinating 6th century baptismal font to 12th century primary structure, Gothic chapels to a Renaissance cupola, and then the oh-so-much-more-modern 17th century neoclassical paintings, etc. etc.
Each week, my students have to go to the Cathedral on their own as detectives to figure out what is what and why. From there, they'll do research and—hopefully—put together projects that will knock my socks off. And judging from the group of students I'm teaching this summer, I'm sure they're going to.
How's that for experiential learning? It just doesn't get any better.
By the way, I'd love to hear from everyone. Want to tell me some of your amazing discoveries? Have you ever gotten this giddy about history? I need to add places to my list of places to explore!