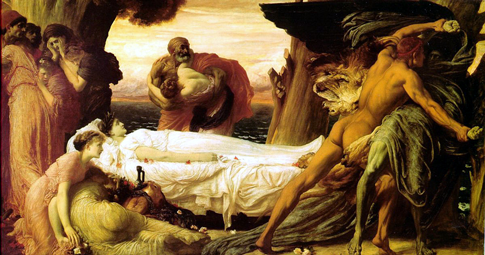 By Katharine Beutner (Guest Contributor)
My novel narrates the life of a Mycenaean queen named Alcestis, who is famed for choosing to die in her husband's place. Most versions of her story say nothing about her time in the underworld. When I began my novel, I knew that Alcestis needed something to drive her exploration of the underworld—something, or someone, to search for. Callous as it sounds, I had to kill someone she loved.
As a young princess of Iolcus, Alcestis spends nearly all of her time in the women's quarters with her two older sisters. The middle sister, Hippothoe, cares for Alcestis after their mother dies giving birth to her. I needed to find an illness to inflict upon poor gentle Hippothoe, and I wanted that illness to be familiar enough to modern readers that they would instantly recognize its dangers.
The first usage of the word "asthma" (άσδμά) occurs in the Iliad, where it refers to a short inhalation—the word derives from the Greek infinitive "aazein." Classical-era Greek physicians describe the symptoms we now know as asthma, and there's some evidence that the Egyptians also recognized it as a distinct disease.
I researched contemporary homeopathic remedies for asthma to find methods that might have been available to the Mycenaeans and settled on two liquid remedies: diluted honey and garlic tea. As an adult, Alcestis remembers Hippothoe's garlic-and-honey smell and recalls going to the kitchens in the middle of the night to prop her sister up over a steaming kettle. Modern readers who have suffered from asthma or watched a family member or friend struggle to breathe will understand the helpless frustration Alcestis feels as she watches her sister endure an asthmatic attack. Even now, with our remarkable advances in medical treatment, the human experience of illness connects us to the Bronze Age.
Katharine Beutner's debut novel, Alcestis
, has just been published by Soho Press. She holds an MA in fiction from the University of Texas at Austin, where she is now a doctoral candidate in English literature.
IMAGE: Hercules Fighting Death to Save Alcestis, By Frederic Lord Leighton, c 1869-71