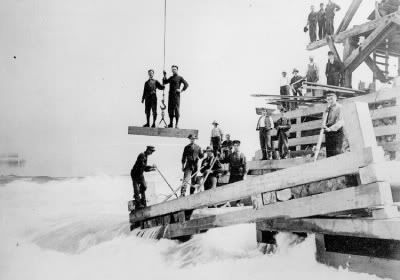 By Cathy Marie Buchanan
Lake Erie sits a full three hundred feet above Lake Ontario, with the Niagara River and Falls linking the two, and at the book's opening in 1915 the clever engineers of the Hydro Electric Power Commission had figured out how to put an end to the power and money running to waste at Niagara Falls. Water would be diverted upriver from the falls and put back twelve miles downstream. In between they would dig a canal and making their own waterfall, hidden inside the penstocks delivering the plunging river to the turbines of a powerhouse. In its day the project dwarfed any hydro-electric scheme yet undertaken in the world. Eight thousand men toiled day and night, blasting, shovelling, hauling away solid rock.
Today, in accordance with the 1950 Niagara Diversion Treaty, the minimum flow over the falls is maintained at 100,000 cubic feet/second during the daylight hours of the tourist season and 50,000 cubic feet/second at all other times, with excess water being diverted for the production of hydroelectricity. The "tourist flow" over the falls amounts to about 50 percent of the water entering the Niagara River and the "non-tourist flow" about 25 percent. Surely Tom Cole would be dismayed.
The title of my novel, The Day the Falls Stood Still, alludes to the greatest fear of Tom Cole, the riverman central to the book's plot−his beloved falls standing still.

Cathy Marie Buchanan's stories have appeared in several of Canada's most respected literary journals ─ The Antigonish Review, The Dalhousie Review, Descant and The New Quarterly. Buchanan holds a BSc (Honours Biochemistry) and an MBA from the University of Western Ontario. She has been awarded grants by both the Ontario Arts Council and the Toronto Arts Council. Born and raised in Niagara Falls, Ontario, she grew up amid the awe-inspiring scenery of the Niagara River and awash in the local lore. She now resides in Toronto.